Easily Solve Your Electrical Issue in 30 Minutes or Less for a Fraction of the Cost of a Traditional Electrician
Gain access to highly-qualified professionals over a video-call to diagnose and solve all your electrical issues.

  Stop wasting money on expensive service calls


  Repair own electrical issues in 30 minutes or less*


  No face to face contact with electricians


  A specialized team of trusted professionals ready to help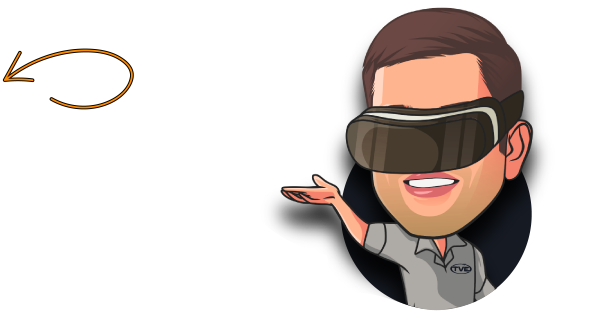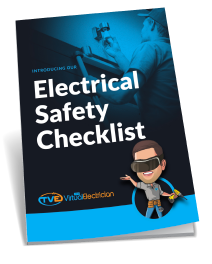 Download Our Safety Checklist
A Helpful Guide for Electrical Safety
Ever Hired an Electrician and Thought…I Could Have Done that Myself'?
Need to fix something electrical around the house or looking to install something new?
…But you don't want to wait around all day for an electrician to show up, only to find that it was a 5 minute fix you could safely do yourself?
And even worse, when they finish you know they're going to hand you a bill so large it makes your eyes water.
If you've ever answered 'yes' to these questions, then The Virtual Electrician (TVE) is for you….

  Do you have an electrical job you need to do, like addressing faulty outlets and switches or sensitive circuit breakers (or any other common electrical issue)?


  Have you ever had an issue that needs fixing but didn't want to pay an electrician hundreds of dollars for a 5 minute job?


  Do you hate taking a whole day off work to end up just waiting around for an electrician to arrive?


  Do you know you can get the job done yourself, if you just had a few pointers to get you started? (HINT: you absolutely can)
Then book a call with our team of master electricians at a time that suits you, and you could have a no-fuss fix just like that!
TVE is a Master Electrician in the Palm of Your Hand…
Watch as a highly-qualified master electrician shows you exactly what to do to get your electrical devices working again or install brand new appliances. The Virtual Electrician combines all the cost-savings of the DIY approach with the convenience of completing the work at a time that suits you.
It's the ultimate hybrid model.
That's why The Virtual Electrician is a better, cheaper alternative to calling out a local electrician to visit your home in-person.

Most problems solved in under 30 minute
No call-out charges
Book a time that suits you
Easy to understand instructions
Gain useful, reusable skills and knowledge
No face-to-face contact maintains social distancing
Work in the comfort of your own home
$79
(TVE Call must be paid for prior to meeting with Electrician, $79 for a call up to 30 mins, then $2 per minute thereafter. *Most calls take less than 30 minutes.)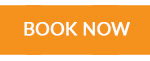 Have to charge you for time travelling, and for the work, even for a 5 minute job
Large call-out charges, even for quick fixes
You have to fit in with their schedule
No visibility or knowledge of what they've done to fix the electrical problem
Have to call another electrician if problem reoccurs
Hard to maintain social distancing with a service person who visits multiple homes per day
$321
(Average cost according to Home Advisor)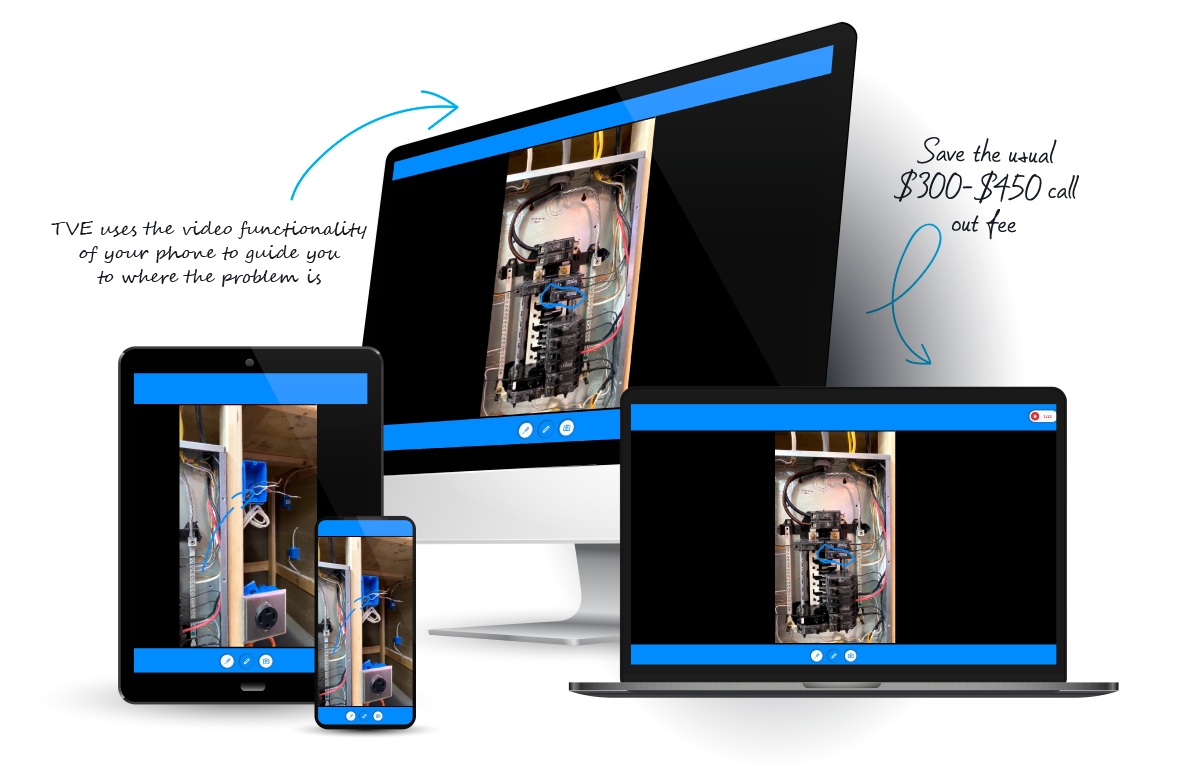 The Cheapest, Quickest and Most Convenient
Way to Troubleshoot and Fix any Electrical Issue
Our master electricians will swiftly diagnose your issue and walk you through how to fix it with step-by-step instructions, guiding you every step of the way.
  Easy-To-Use Online Booking System
No more taking time off work and waiting around for an electrician. Take back control of your own schedule and book your appointment at a time that suits you.
  Online Video Streaming
No fiddly apps to download or software to install. Just click the link in the text message we'll send you before the call and you'll be put through to one of our master electricians using your phone's video functionality.
  Highly-Qualified Experts
Our electricians have years of experience, and have been thoroughly vetted by our team to ensure they can communicate effectively, patiently to guide customers and diagnose and fix issues quickly.
  99% of Common Electrical Issues Fixed
Our master electricians are experts in their field with decades of experience. They'll troubleshoot your issue quickly and give you clear, safe, easy-to-follow instructions to get the job done.
  Cheaper Than An Electrician
Our service is so cost-effective because we don't have to charge large callout fees like other electricians. Without having to charge travel and being able to see more customers each day, we're able to keep our prices low.
  Video Calls Recorded
Want to watch the call back later? We'll send you the recording so you can re-watch it and use it to fix other issues in your property anytime in the future.
How does The Virtual Electrician work?
IT'S A SIMPLE PROCESS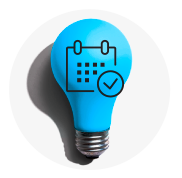 Book a date and time that suites you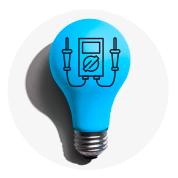 Describe the Problem
you've been having or the electrical issue you'd like to discuss and we will provide you with a list of the tools (if any are needed) to purchase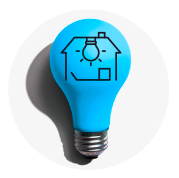 We will text you a link
that will open up our streaming software, which will use your mobile phone's video camera to show our electrician the issue or area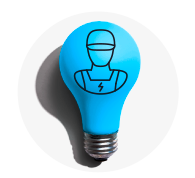 Follow the master Electrician's instructions to complete the fix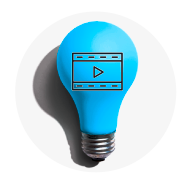 We'll send you the recording after the call
That's it! Are you ready to solve your electrical issue at a fraction of the cost? Then book your call with TVE's expert team of trusted licensed electricians.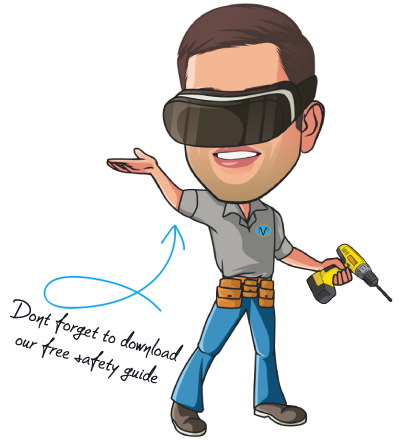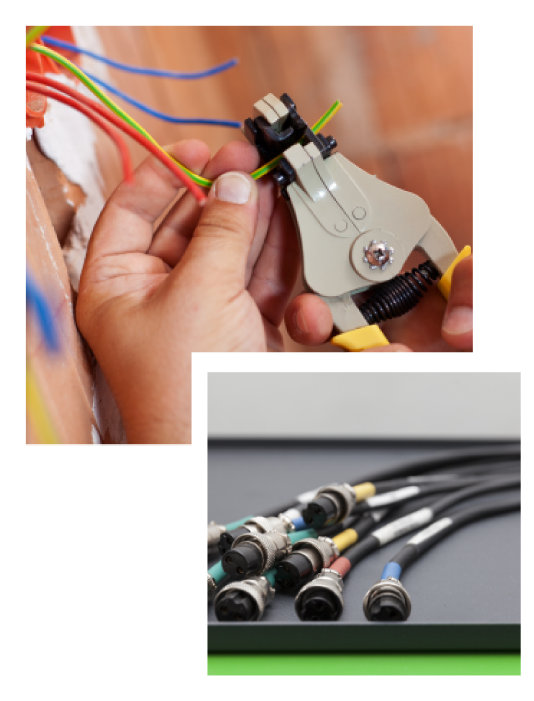 About The Virtual Electrician…
We're a team of highly-qualified electricians who have held master certifications (the highest qualification an electrician can earn) in three states and spent almost 30 years owning and running a 'traditional' electrical contracting firm.
We're proud to have provided excellent service to thousands of homeowners in our local area by diagnosing and repairing issues like faulty circuit breakers, old wiring and electrical surges, but we always wondered if there was a way we could have a bigger impact. A way we could help people all over the country not just in our local area…
…and now we've done it using a method that seemed almost unthinkable to us when we were first setting out on our careers… we've gone VIRTUAL!
Now with the help of our revolutionary streaming technology and your phone's video function, we can guide you step-by-step to fix the problem yourself. It's like we're really there with you, telling you exactly what to do next from just over your shoulder.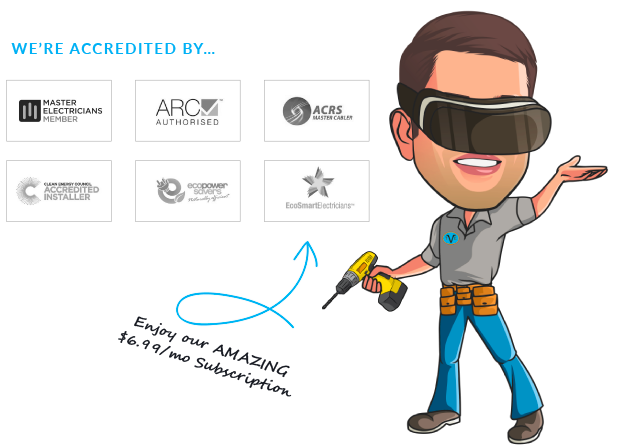 A TEAM OF TRUSTED PROFESSIONALS
Meet Your Virtual Electrician Team Members
Our team of highly-qualified electricians have extensive experience, great communication skills and a fantastic ability to clearly explain their knowledge to you, so you can have your problem solved within minutes.
MIKE BICKIMER
Master Electrician
JEREMY LEAGUE
Lead Electrician
DEREK POLLMAN
Lead Electrician
WANT TO GET REALLY HANDY?
Check Out Our Extensive DIY Video Library
Introduction to The Virtual Electrician
TVE takes a DIY approach to solve your electrical problems. You can either sign up for our video packages, video packages plus live chat with virtual electrician, or schedule a virtual service call!
TVE was started by a master electrician who specializes in troubleshooting any residential electrical problem. Our team is so skilled that we can virtually walk you through most electrical problems in 30 minutes or less.
In the rare occasion we can not help you with your electrical problem or it requires an electrical permit with a licensed professional performing the work, your call will go toward the cost of an in person service call.
The 'Essentials' DIY Series
[Best For Casual DIYers and One-Off Projects]
If you're looking for free advice or tutorials you can watch to help you solve existing problems or complete new installations, check out our library of more than 150 videos, which are completely free to watch.
The 'Ultimate DIY' Subscription
[Best For Long-Term Renovation Projects & House Flippers]
If you're looking for free advice or tutorials you can watch to help you solve existing problems or complete new installations, check out our library of more than 150 videos, which are completely free to watch.
DO YOU HAVE QUESTIONS? WE HAVE ANSWERS 
Frequently Asked Questions…
What Electrical Issues Can You Help Me With?
Our virtual electricians can help you diagnose and help you fix the vast majority of electrical issues in the home.
Please note that we're not able to offer guidance on Meter Can or Mast work as these will require your licensed electrician pulling a permit with the city.
Not sure if we cover your particular problem? Just click this link and speak to one of our team members using our online chat option and we'll tell you whether or not we'll be able to help!
Can You Help Me Install an Electrical Device?
Yes, as well as problems, we're also able to help guide you to install new electrical devices correctly and safely.
Here are some of the most common installations we help our customers with:
Installation & Replacement of outlets and GFCIs
Installation & Replacement of switches
Hanging Fixtures
Hanging Ceiling Fans
Adding a circuit to your electrical panel
Providing answers to electrical code and safety concerns
Is it Safe to do Electrical Work by Myself?
Yes, our recommendations carry zero safety risks. We carry out a comprehensive safety check at the beginning of every call to give you complete peace of mind.
What Tools Will I Need for the Job?
Most electrical issues can be fixed with the normal tools you have lying around the house. You should make sure that you have at least a screwdriver and a presence tester ready to use. We'll let you know which tools you need when you describe your problem on our booking form.
How Do I Book My Video Call?
Just head over to the booking page and select the date and time that works for you. We'll email you to confirm and send you all the details.
How Long Does The Virtual Electrician Process Take?
We help you to find a fix in less than 30 minutes, on average.
How Much Does The Virtual Electrician Cost?
Please visit our pricing page for more details.
Click Here to visit the Pricing Page
Are There Any Issues Your Electricians Won't be Able to Help me Out With?
Occasionally there will be cases where the city requires certain issues to be fixed by a licensed electrician as homeowners aren't permitted to. In these rare cases we guarantee to get you to the point of diagnosis, so you can give the electrician all the information they need to fix the issue swiftly.
Will You be Able to Help me With Electrical Codes?
Yes, if you're not sure which code applies or whether you're meeting the appropriate regulations then we'll give you an expert opinion, let you know if you're in clear violation and advise you how you can meet the relevant health and safety codes.
Do I Get my Money Back if Your Electrician Can't Resolve My Issue?
In some cases there will times where you need a licensed electrician to perform the work requested. In those cases we will schedule an electrician to come out and fix the problem. The ($79) fee for The Virtual Electrician will be deducted from the service call. There will be no refunds and the electrician used must be selected by TVE.
Ready to Solve Your Electrical Problem for a Fraction of the Cost of a Traditional Electrician?